Building Regulations compliance
Building Regulations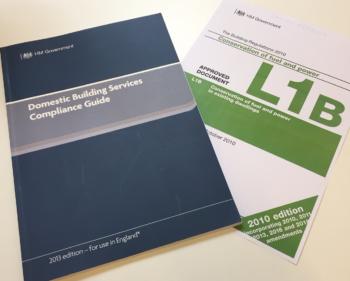 Heating controls in homes are covered under Part L of the Building Regulations, covering conservation of fuel and power. Approved Document L1A applies to new dwellings and Approved Document L1B applies to existing dwellings.
The Legal requirements for compliance are detailed in the Approved Documents and these are:
Provide fixed building services (such as heating and hot water systems) that are energy efficient, have effective controls, and are commissioned to ensure they use no more fuel and power than is reasonable.
Provide to the owner sufficient information about the fixed building services so that the building can be operated in such a manner as to use no more fuel and power than is reasonable.
The regulations are also supported by the Domestic Building Services Compliance Guide. Following the guidance provides a legal presumption of compliance but in all cases the building control body decides whether work complies with the requirements of the Building Regulations. Innovative approaches to achieving compliance are also allowed.
---
Boiler Plus amendments 2018
Following the publication of the Heat in Buildings Consultation response at the end of 2017, the UK Government published amendments to the 2013 Domestic Building Services Compliance Guide that came into force on the 6th April 2018.
Informally referred to as 'Boiler Plus,' these amendments aim to improve the efficiency of installed heating systems, particularly through the installation of additional controls. The specific requirements that installers will now have to follow when replacing a boiler are as below:
Ensure that the system meets minimum standards for boiler interlock, time and temperature control as they would for a new system. (This was generally accepted as a requirement by industry and Building Control in the current building regulations, but it is good that this is now more clearly stated.)
When installing a combination boiler (both new and replacement) in an existing building one of the following should also be installed:

Flue gas heat recovery
Weather compensation
Load compensation
Smart thermostat with automation and optimisation
Obviously, the intention is to promote the implementation of technologies that are less common in UK homes, but the very fact that these are uncommon means that many installers face a requirement to use new products and learn new skills. In addition, Building Control Officers whose job it is to make sure that installations comply with the regulations also need to be up to speed.