BEAMA Underfloor Heating Guides
During the course of the year BEAMA Underfloor will be producing a number of new guides. Currently there is a lot of guidance on UFH from many directions including BRE, CIBSE, BSRIA, European standards, and a multitude of manufacturers data.
BEAMA Underfloor's remit from its members is to ensure we provide homeowners, specifiers, users, designers and installers with accurate, up-to-date, unbiased clear advice, with reference projects and case studies. Follow us on Twitter to receive updates when they are published.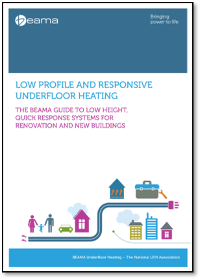 BEAMA GUIDE TO LOW PROFILE AND RESPONSIVE UNDERFLOOR HEATING
As the name suggests, low profile systems add very little height to a floor and react a lot faster than traditional pipe-in-screed systems. Their ability to be easily installed on solid floors, floating floors or joisted floors, is making them extremely popular. But such popularity leads to copycat imitations, often with sub-standard materials being used, which can fail to perform. This has been a concern for BEAMA Underfloor members. This guide will help you decide which system is right for your project, and will arm you with the facts. To download the guide click here
Underfloor Heating -Floor coverings (Autumn)
"Can UFH be used with Carpets?", "What about wood floors?", "It's only suitable for tiles!" These common questions and misconceptions will be put to rest in this informative guide. Simply, UFH can be used with virtually all floor coverings, and this guide will take you through the factors BEAMA Underfloor members consider when supplying systems, and guide you on the expected performance.
Underfloor Heating -Heat sources (Autumn)
"Can I use a boiler?" "What about heat pumps?" "Can solar thermal be used?". This impartial guide will give the low down on heat sources for underfloor heating, the impact of flow temperatures on efficiency, and the design considerations BEAMA Underfloor members take into account. Don't be misled by popular rumour and misconception: this guide will help you get an efficient heating system.
Underfloor Heating -Controls (winter)
"Why do I have a thermostat in each room?", "Will UFH work with my existing controls?" "Why do I need controls?". This independent BEAMA Underfloor guide, written in collaboration with BEAMA Controls, explains how to get the most out of any heating system, planning for efficiency and comfort from the outset. This guide describes the types of controls needed, how they operate, and options when incorporating them. There is a revolution happening in this area too with the digitalisation and merging of heating and communication technologies, the guide will cover what new systems can do in a UFH system.
Underfloor Heating Design & Installation Guide
With the support of BEAMA Underfloor, the Domestic Buildings Services Panel (DBSP) has produced a guide on the design and installation of underfloor heating systems. This is a comprehensive technical guide for professionals wishing to understand all aspects of UFH and complements the Domestic Heating Design Guide, also produced by the DBSP. The Underfloor and other DBSP guides are produced on a non-profit basis by the Panel and can be purchased here.
If you would like information on any of these topics in advance of publication please contact Kevin Ray: kevin.ray@beama.org.uk or you can contact one of the BEAMA Underfloor members by clicking here