Winder Power Limited
Grangefield House, Richardshaw Road, Pudsey, Leeds, LS28 6QS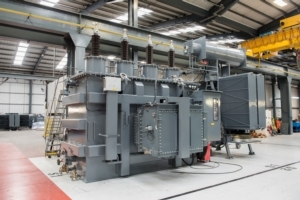 At Winder Power we have tremendous history. After forming over one hundred years ago, we moved to our current premises in 2008. We have a modern factory covering 80,000 square feet, and have first-class employees who are committed to putting customers at the heart of capital to businesses in the United Kingdom. We have a wide range of customers in the utility, renewable energy and industrial sectors. We employ seventy-five people and are proud to have our manufacturing base in the heart of Yorkshire.
We specialise in the following:
The UK based design, manufacture and testing of power and distribution transformers of all classes up to 60MVA at 66kV.
A full refurbishment and re-manufacture of power and distribution transformers up to 90MVA.
Substation works including transformer diagnostics, servicing and installation. We also offer a range of high-voltage electrical contracting services for all electrical apparatus.
The UK based design and manufacture of power generation equipment and components.
Full after service and technical support from our team of specialists located here in Yorkshire.