The emphasis of this report is to monitor what has happened as opposed to what will happen. All the data with exception to exchange rates and OECD Composite indicator come from the Office for National Statistics (ONS).
BEAMA members can download the Brexit reports in full by clicking here, if you are not a BEAMA member and would like to purchase the report, please contact Emmanuel Amoakohene [email protected]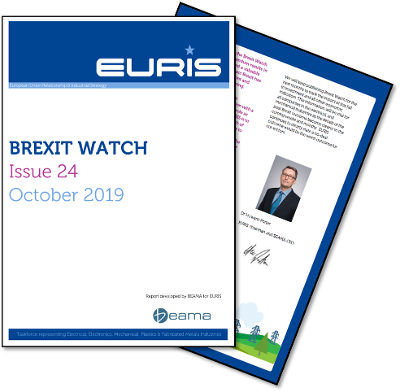 Brexit Watch
BEAMA has been producing the Brexit Watch for EURIS since the referendum results in 2016, and this has provided a valuable record of the ongoing impact Brexit has had on currency, employment and investment in UK manufacturing. EURIS represents the industry with a combined turnover of £153.3 billion with a workforce of 1,118thousand. Our role as trade organisations supporting EURIS is to protect and ensure the continued growth of our sectors in the UK and we continue to work closely with UK Government on ensuring a business-friendly exit from the EU and we will support and represent our industries in following trade negotiations.
The Brexit Watch report monitors the short-term UK macro economic indicators to assess the impact of UK decision to leave European Union on UK economy. The report also monitors indicators in six EURIS industries (EURIS6), namely, Plastic (SIC 22), Fabricated Metals(SIC 25), Electronic (SIC 26), Electrical (SIC 27), Mechanical (SIC 28) and Repairs & Installation
(SIC 33).
---
BREXIT WATCH SUMMARY REPORTS