You dont have to choose. You can have it all!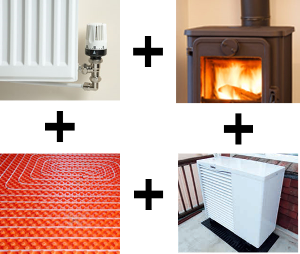 In the exact same way as using a radiator, underfloor heating can be used to heat every room in the home, a few rooms or just a single room. It is compatible with any standard boiler as well as being highly suited to high efficiency boilers or alternatives such as heat pumps. A single heat source (e.g. boiler) can be used to supply underfloor heating, towel rails and radiators at the same time.
Sometimes homeowners will install underfloor heating when they build an extension or renovate their kitchen while continuing to use their original radiators in other rooms. Others may choose to install underfloor heating throughout the ground floor and use radiators in the bedrooms. System controls mean you can use underfloor heating along with an open fire in one room without affecting the comfort in other rooms.
How Underfloor Heating Works
Underfloor heating is extremely effective. Because the emitting area is large, sufficient warmth is provided even on a cold winter day with no need for supplementary heating.
The images below show the difference in heat circulation and distribution between a traditional radiator and underfloor heating. Underfloor heating provides a consistent temperature where you need it most.