Homeowner FAQs
How does UFH Work?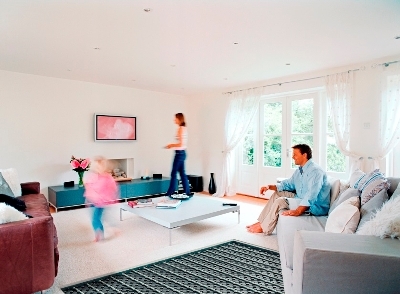 Underfloor heating is an 'invisible' heating system that works by pumping a controlled flow of warm water from any heat source, such as a boiler or heat pump, through tubing embedded in the floor. It can also be installed in renovations, where the tube fits in slim panels that sit directly on top of the existing floor. Because the emitting area is large, sufficient warmth is provided across the whole floor surface to heat the room effectively.
What are the benefits of UFH?
Warm water UFH creates a luxury, even warmth in your home that is free from draughts and dust movements.
UFH is efficient – around 25% more efficient than radiators, helping to keep heating bills low
It is an 'invisible' heating system, so you can place fixtures and fittings wherever you choose
It creates a comfortable living environment – warmth rises gently from the entire floor surface to create the perfect heating profile.
Is UFH suitable for my property?
There are a range of systems on the market to suit virtually every type of property.
All new properties should be suitable for UFH, as they will be well insulated. Older properties can also benefit from UFH too, thanks to a range of retrofit systems that offer high heat outputs. A good supplier will be able to suggest the best option for your home.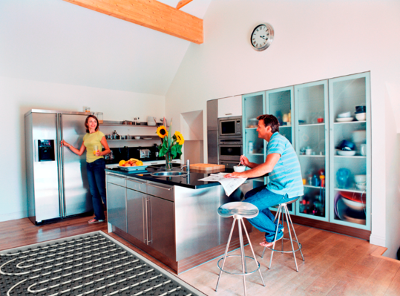 Do I need to chance my boiler?
No. UFH works well with gas, oil and LPG boilers as well as ground and air source heat pumps.
In underfloor heating expensive to install?
The price of a warm water UFH system varies from project to project. Generally, a screed UFH system is the cheapest option with retrofit options being more expensive due to the amount of components required.
I'm renovating. Will I have to dig up my existing floor?
No. There are a range of UFH systems on the market that have been designed specifically for renovation projects. These solutions are laid directly on top of your existing floor and are also low profile – as little as 15mm!
Is it expensive to run?
No, not at all. Warm water UFH is around 25% more efficient than radiators when paired with a modern condensing boiler and up to 40% cheaper to run with a heat pump*. This is due to the lower flow temperatures that the UFH requires compared to a radiator system.
Warm water UFH is also considerably cheaper to run than an electric UFH system, as electricity tends to cost three times as much in comparison to the price of gas or oil.
*EuRay, 2005
Can I have UFH in just one room?
Yes, it's possible to have UFH in just one room, keeping radiators throughout the remainder of the property. There are a range of UFH kits available on the market that are suitable for using in a single area.
Can I have UFH upstairs and downstairs?
Yes. There are UFH systems that have been designed specifically for installation on first floors.
What floor coverings can I have with UFH?
UFH is compatible with most floor coverings, even carpet! Certain floor coverings offer a better heat transfer than others, such as tiles, but providing the UFH system has been designed correctly the room/s will always meet the desired temperature.
How long does it take to install?
This varies depending on the size of the property and the system being installed. Your supplier will be able to advise on typical timescales.
How is it controlled?
UFH can be controlled by a standard dial-type thermostat, or remotely via a smartphone or tablet depending on your preference.
Retrofit and floating floor UFH systems heat up quickly and are more responsive than a traditional screed system, so can be controlled in a similar way to a radiator system. A screed UFH system takes time to heat up from cold, so is best used with a 'setback' temperature – this achieves an extremely high level of efficiency.