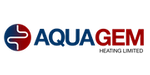 Aquagem Heating Ltd
Towers Business Park, Venture Point,, Wheelhouse Road,, Towers Business Park,, Rugeley, WS15 1UZ
AQUAGEM Heating was Founded by Andy & Coreena Powis in 2009. Andy started out in the heating business back in 1976, but specifically into UFH from 1996. Thus, bringing a vast knowledge of Industry experience now spanning 25 years just in UFH alone.
With professional & dedicates staff, many with several years' experience we are a tight well-run organisation, with the vast number of customers becoming long term business partners.
Our products are manufactured by market leading suppliers and are widely used throughout Europe. We have gone to great lengths over a long period of time to ensure our products offer great value without compromising quality.
AQUAGEM work closely with Mechanical Companies, Builders, Private Individuals & Consultants. We offer assistance with their Underfloor Heating projects. With our vast knowledge and experience within this sector you can be confident that we will be able to assist you with bespoken design, supply & Install solutions.
AQUAGEM offer a complete system that includes: -
Design.
Heat Outputs.
Materials such as pipe work, Manifolds, Fixings.
Electrical controls, Thermostat, Wire centre, Actuator.
Low Board, Dry Floor Systems.
Floor Insulation.
Screed, Sand Cement, Flowing.
Installation & commissioning of system.
Whether it's a domestic dwelling, commercial building, a hospital, school academy, nursing / care home or housing AQUAGEM offer a 'one-stop shop' for any Underfloor Heating requirements.