Review of BEAMA at InstallerSHOW 2022
BEAMA hosted our Net Zero by Design Theatre at 2022's InstallerSHOW at the NEC Birmingham
BEAMA hosted a series of panel discussion over the 3-day InstallerSHOW event at the NEC last month, on the topic of Net Zero. The theatre, hosted in partnership with Elemental UK and made possible by our sponsors Adey, Lewden & myenergi, saw ten panels discussing some of the most important topics that face the energy supply industry on their journey to reaching Net Zero.
DAY 1 - The Future of Heating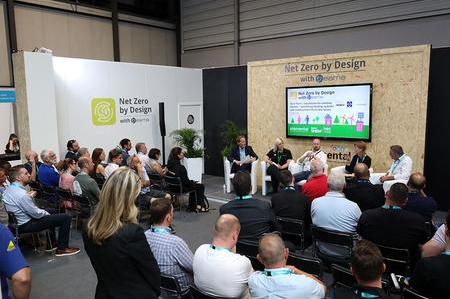 Our first day of panels focused on The Future of Heating and debated topics such as the Government's long term heating strategy, what the future looks like for Heat pumps and Heat pump installers, and how better technologies will help shape the Heating controls market.
The day one keynote included a presentation from Will Humphreys of BEIS on their long-term strategy, followed by a wider discussion on the topic including Johnathan Jennings of Glen Dimplex, and Martyn Bridges of Worcester Bosch.
Our panels discussing the Pathways for Heat Pump Installers featured Clayton Browne representing the Heat Pump Installer Network, and speaking for the manufacturers, Johnathan Jennings of Glen Dimplex and John Felgate of Stiebel Eltron. This brilliantly attended session focused on not repeating the mistakes of the past, ensuring that installers are properly trained and informed so as to make certain that heat pump installations work properly and efficiently to avoid bad press for this technology.
Discussing Hi-Tech Housing were Richard Halsey, Capabilities Director at Energy Systems Catapult, Rob Whitney or Tepeo, and John Felgate of Stiebel Eltron. The emphasis of this discussion was on the fact that we are currently live in a Hi-Tech world. New technologies shouldn't only be for the early adopters, it should be for everyone. We have the network capabilities now to install more tech in homes, but once demand takes off, we will still need to see significant investment in the Net Zero power supply.
For the Heating Controls panel BEAMA's own Colin Timmins was joined by group members Remi Volpe of Drayton and Fausto Grilo of ESI Controls, and Richard Burrows of MWPHS. With the 0%VAT now available for controls as a retrofit measure, the discussion looked at how there is plenty of value to offer consumers in addition to energy saving potential. BEAMA and our members have a role in providing impartial credible evidence of this energy saving potential from controls.
DAY 2 - New Building Regulations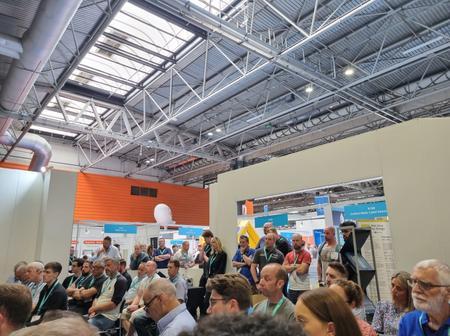 Day 2 saw BEAMA's Net Zero by Design Theatre open with a keynote discussion of the new building regulations that recently came into force on the 15th January. We were very pleased to be joined by Richard Whittaker of Citizens Housing, Chris Gaze of Future Home Hub, and Oliver Novakovic of Barratt Developments. Also on this panel was BEAMA's Colin Timmins, who had been leading a project writing updated guidance for the new regulations. Hard copies of these guides were available in the theatre and were very quickly picked off the stands by eager hands.
This lively discussion looked at many additional points to the building regulation updates, including the embodied carbon in building stock. Citizen Housing had been experiencing gaps in both skilled and unskilled work fields and had begun training programmes with ex-military members and others. Barratt had been specifying a percentage of apprentice workers to ensure a growing skills base in their UK workforce.
Our second panel of the day was on the Part L regulations, a topic clearly struck with the audience at the NEC as we could have filled every chair in the theatre twice over.
Our panel was made up of Rob Berridge of heat-engineer.com, Jo Alsop, of the Heating Hub, Stephanie Allchurch of Altecnic, and Dr Neil Watson of ADEY and also chair of Benchmark.
This session included lots of discussion on educating everyone about correctly selecting products that are right for them. Oversizing of systems and not commissioning correctly leads to inefficient heating, and bad reviews for good technologies.
The panel also discussed the Net Zero by 2050 targets. With 85% of the UK's housing stock of 2050 having been built already talk turned to retrofit options, and the panel agreed that with rising energy prices consumers are more open to looking at new tech options that will offer savings.
Our second day concluded with Amy Collins of glen Dimplex, Richard Paine of Vent Axia, James Healey of AESG and Richard Whittaker of Citizens Housing discussing broadly the Part L, F and O regulations.
When discussing how these regulations affect both new builds and retrofit projects, all came to the conclusion that we need more industry wide collaboration. With the specialists working together, ventilation and heat recovery will have a role to play in the country meeting Net Zero. If all work together, we'll all make it to Net Zero together.
DAY 3 - Products and infrastructure for Net Zero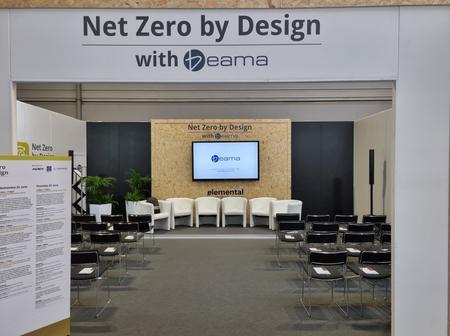 On the final day of InstallerSHOW, BEAMA started their content with a keynote including our CEO Dr Howard Porter. He was Joined by Simon Ayres of Trustmark, Maria Dutton of the Green Finance Institute, and Dave Farmer, Research Fellow at the University of Salford's Energy House.
The common trend for all speakers was stepping up standards in products. Higher tech products would help us achieve more carbon efficient heating, and de-risk investment in domestic upgrades for the financial sector. Raising the level of standards will inherently raise the quality of products, meaning there is less risk involved for financing retrofits in existing homes, and with over 28 million in need of upgrades to help the country meet its Net Zero targets, the funding will play an important part in meeting the 2050 goal. The panel also looked at the skills gap growing in the UK workforce. They discussed the idea of closing the skills gap by essentially rebranding the installers roll and making it a more attractive career path to young apprentices.
We followed this with presentations from some of our members showing us the latest technologies they had developed for low carbon homes. Presenting were Johan du Plessis of tepeo, showing their ZEB (Zero Emissions Boiler), Tom Callow of Myenergi discussing their Zappi and Eddi product lines, and Mike Pyke of Chameleon with their Ivie Home Energy management System.
Tepeo's ZEB is a plug and play replacement for fossil fuel boilers, using cloud-based learning to decide when is best to draw power to efficiently heat your home, due to its zero-degradation internal storage. This is a zero-carbon alternative for where a heat pump would not be a suitable install.
myenergi discussed how the EV charger sector is growing, with the percentage of cars on the road right now being 3%, rising to 4% by the end of the year, and only growing after that. The Zappi is an EV charger that can fit into the majority of UK homes, and the Eddi is an energy storage system that will draw power from the grid intelligently at the most efficient times, making charging an electric vehicle easier and more cost effective.
Chameleon's Ivie Home Energy Management System is a smart system that controls your energy usage most efficiently through constantly updating using real time data over Wi-Fi. The same data is also used to look at what saving a home could achieve with new technologies.
We closed out our first appearance at the InstallerSHOW with a panel looking at the future of electrification in UK homes and the roles of electrification in heat and transport. Joining us for this discussion were Martyn Allen of Electrical Safety First, John Felgate of Stiebel Eltron, Kieran Whyte of Schneider, Peter White of Western Power Distribution, and Luke Osbourne of the ECA.
The talking points covered included the role out of 3-phase supplies, the smart metering rollout across the UK, and smart systems and their role in achieving a Net Zero future for the country.
BEAMA were thrilled to be able to host such a wide and varied selection of discussion panels over the 3-day event and want to take all those that joined us in the audience. The whole show was a great experience for all, and we look forward to seeing you all in 2023.