Nu-Heat invests in future growth Press Release
11 May 2017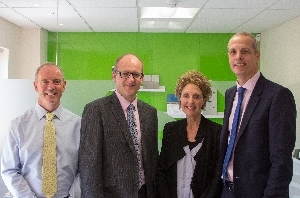 Nu-Heat, the UK's leading supplier of underfloor heating and renewable systems, has secured investment from new shareholders as part of plans for continued growth.
Nu-Heat has a 25-year history of delivering fully designed, energy efficient underfloor heating and renewable systems. It has out-performed the growing underfloor heating market in recent years to become a £15m business and is the only heating company to have been awarded the UK Customer Service Standard, ServiceMark, with Distinction.
A management buy-out, led by Nu-Heat's Managing Director, David Roberts, with the backing of Bestport Capital, puts the company in a strong position to continue with its impressive growth trajectory whilst continuing to deliver the same high quality, innovative products, expert technical support and outstanding service levels that customers have come to expect.
Having dedicated much of their working lives to the company Directors, Alison Troop, Adrian Troop and Andrew Grimsley have decided to retire.
Commenting on the buy-out, David Roberts said: "This investment marks our confidence in the underfloor heating market and the next chapter in our growth story. Above all, this will help us to continue to provide our customers with the best heating solution whilst providing our people with a bright future firmly anchored in the origins of the business. This transition enables founding Directors, Alison, Adrian and Andrew, to begin the next chapter of their lives and everyone at Nu-Heat wants to say a big thank you to each of them and we wish them a long and happy retirement."
Joining the Board, Ole Bettum from Bestport Capital added: "Nu-Heat is a fantastic company with a strong management team and an impressive track record in a growing market. We are delighted to be investing in Nu-Heat and we are excited about supporting the company's future ambitions for growth."

Company Info

Nu-Heat is based in Honiton, East Devon and employs over 100 people throughout the UK.
Nu-Heat is the largest supplier of warm water underfloor heating systems to the UK domestic market having delivered over 60,000 fully designed underfloor systems to self-builders, installers and developers nationwide. Nu-Heat also designs and supplies fully integrated ground source and air source heat pump systems as well as solar thermal.
Contact
Becky Davies: Becky.davies@nu-heat.co.uk 01404 540 715
Stacey Callun: Stacey.callun@nu-heat.co.uk 01404 540 629
8th May 2017