BEAMA hosts webinar as part of Net Zero Week 2022
July 2nd -8th was Net Zero Week 2022. The seven-day event saw businesses, government and public come together to discuss the challenges, and celebrate the goals, of reaching Net Zero.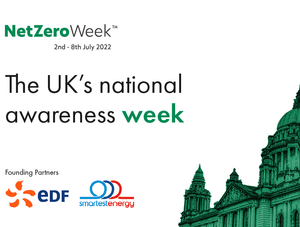 The Net Zero Week website is now hosting the podcasts and webinars that have taken place on demand, including BEAMA's Celebration of Best Practice from Manufacturers supplying the UK's Energy Infrastructure.
On Wednesday the 6th July we were joined by representatives of our members who have been working to bring their companies closer to Net Zero and carbon neutrality.
Joining us were Matt Crunden, Training and BIM Manager of Legrand. Matt's work in BIM (Building Information Modelling) has seen a significant crossover with their customers requirements for sustainability information. As such he has found himself working with a number of Legrand's suppliers top help reduce their carbon emissions to bring their supply chain closer to Net Zero.
Sean Smith is the Managing Director of Michael Smith Switchgear Ltd. The company have been quick to look at ways to reduce their embodied carbon in products, and have worked to reduce their usage of manufacturing resources. Fantastically, Michael Smith Switchgear Ltd recently achieved carbon neutrality, but are aiming for the future and reaching Net Zero.
Stuart Smith, of Doimus Ventilation and Nuaire, laid out their Net Zero Roadmap to reach Net Zero by 2050. The group have already made good headway towards this goal, by slashing carbon emissions and only using renewable energy, and their future targets such as installing a vast array of more energy efficient infrastructure within their buildings make their objective look extremely achievable.
Eloise Cotton of Schneider Electric laid out their Sustainability Impact Program. Since kicking off their Zero Carbon Project in April 2021, Schneider Electric continues to work closely with 1,000 of its top suppliers to halve their operational carbon emissions by 2025. This work is also detailed in articles posted to the BEAMA website, here.
And finally Brendan White Commercial Director of Nexus, part of the Luceco PLC. Luceco had become Carbon Neutral last year, and Nexus, being a new part of the company, have been looking to continue this trend in the products that they are offering. They have been working with customers to take product waste and recycle it into new sustainable products, and in doing so have brought manufacture back to the UK, saving more carbon in the products transit.
You can rewatch the webinar below.