Every year, BSI and its partners, including BEAMA, offer young engineers the chance to take part in the IEC Young Professionals Programme, all-expenses paid.

The programme brings together the world's upcoming expert engineers, technicians and managers and provides them with the opportunity to shape the future of international standardization and conformity assessment in the field of electrotechnology.

The 2022 programme takes place in October/November in San Francisco and is open to engineers aged 35 years or under as of 30 June 2022 living and working in the UK.

BSI's Inclusive as Standard initiative encourages and enables greater diversity in our standards-making community, so we welcome all applications.

To apply for the chance to represent BSI and the UK on this important programme please complete the application form on the BSI website, which can be found HERE.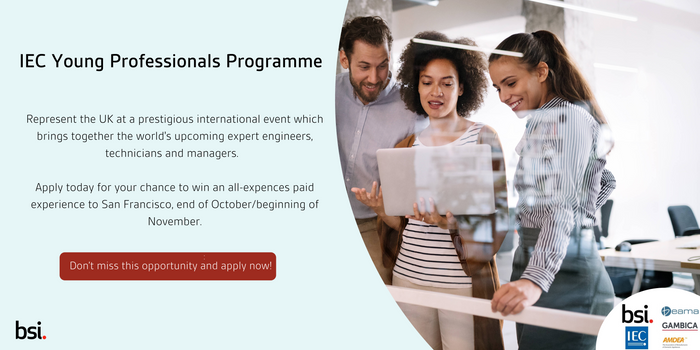 Applications will be assessed by a panel of standards experts from BSI, BEAMA, GAMBICA and AMDEA.

The panel will be looking for:
Experience in the field of electrotechnical engineering
Demonstrable understanding of the role of standards and standardization, with particular reference to the European single standard model and the IEC and CENELEC Frankfurt Agreement
Ability to demonstrate clear thinking and communicate ideas in writing - an essential skill for standards-making
Clear evidence of motivation and commitment to participate in standardization during and after the programme
Applicants may be asked to supply a full CV and attend an interview before a formal offer is made.

Successful applicants will be required to:
Attend a briefing in early September 2022 at BSI's Chiswick offices
Participate in the ESSAC (www.bsigroup.com/ESSAC-UK) meeting in September 2022 at BSI's Chiswick offices
Take part in filming to help promote the IECYPP and other BSI programmes and events
Participate in the BSI Standards Conference in November 2022 in central London
NB: the above events are subject to change.

The application deadline is 31 May 2022.

If you have any queries please email [email protected].