Power consumption halves as Legrand continues sustainability commitment
Legrand has halved power consumption at its Consett manufacturing site, following the implementation of key efficiency measures.
Forming part of the company's continued commitment to becoming more sustainable across all of its operations, the power savings are equivalent to an impressive CO2 reduction of 167 tons.
The renewable upgrades include a new solar photovoltaic (PV) solution, which has been installed across the roof of the facility. Significantly, the 239KW system has reduced the site's grid consumption by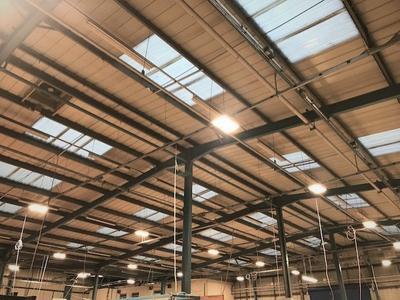 20% alone, offering renewable power across the facility. To measure the energy generated from the panels, Legrand's IME meters measure input and output via software to remotely measure performance in real time, allowing for further optimisation of consumption.
Another significant contributor to the manufacturing facility's energy savings is the upgrade to LED lighting throughout the building. Offering enhanced working conditions, the lighting provides high lux levels and automatically dims when natural light reaches sufficient brightness thanks to the installation of CP Electronics DALI lighting controls from Legrand's Energy Controls business unit.
In addition to enhanced lighting, the manufacturing equipment across the site has also been updated, where older hydraulic equipment has been replaced with more environmentally-friendly electric machinery.
Philip Rudland, ISO Compliance Engineer at Legrand, says: "We are very pleased to have significantly reduced our environmental impact, while simultaneously enhancing working conditions at our Consett site. The introduction of LED lighting and CP Electronics controls has already been seen at our Scarborough site, and so it's particularly fantastic to now see the benefits of the products we manufacture first hand in Consett. In addition to this, we are proud to see the expertise of our own engineers be proven through the well designed and commissioned control system.
"Introducing measures to improve efficiency is an ongoing process in our facilities, including the recent installation of an automatic roller door between production and warehouse areas to reduce heat losses. We are also looking to improve insulation by introducing new windows and upgrading the current heating system to be more efficient."
The reductions at the Consett site form part of the Legrand Group's wider environmental goals. Other commitments this year include a 10% reduction in Volatile Organic Compound (VOC) emissions and a waste recovery rate of 90%.
Pascal Stutz, CEO of Legrand UK and Ireland, says: "We are extremely proud of the work that our teams have carried out at Consett because it represents part of our ongoing commitment to being a sustainable company. It is our CSR commitment to set an example for making renewable progress and this represents part of our long-term plans for greener operations.
"Our mission is to improve lives, not only of our customers and those that use their buildings, but of our very own teams as well. We want customers and employees alike to be proud to work with us as we make our way into a better future, and so we are glad to show tangible results of installing our energy efficient solutions into our buildings."
To find out more about Legrand's CSR commitments, visit www.legrand.co.uk