Planet-Friendly Ventilation
Sustainability is a complete way of life for EnviroVent, a mission that is engrained into the organisation at all levels. Since 1997, the company has committed to improving the way it works and re-engineering its products with sustainability in mind, as well as strengthening its green credentials across the business.

The "enviro" element of the company's name is not only about improving the indoor environment of its customers, but also its environmental impact on the world.

Net Zero by 2030
Andy Makin, MD at EnviroVent, says: "Sustainability has always been a key element of our philosophy at EnviroVent. As part of our Planet-Friendly campaign, we have committed to achieving Net Zero by 2030. To meet this ambitious target, we have instigated numerous sustainability practices to reduce our carbon footprint."

The various sustainability practices and activities include: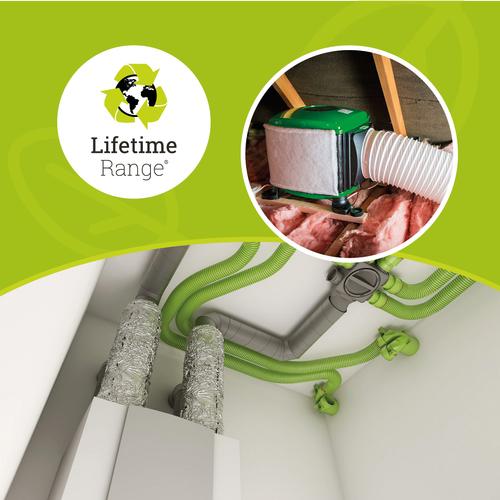 Reducing and Recycling Waste at its headquarters
EnviroVent aims to minimize waste at its headquarters in Harrogate and any that is generated is separated using waste hubs for metal, paper, cardboard, hard plastic, soft plastic and general waste. The company works with a zero to landfill waste management company which ensures everything is recycled and reused and guarantees any general waste does not go to landfill. By recycling more, the company has reduced general waste by 33%, which equates to 34 tonnes.

Printer Cartridge and a paperless future
Wherever possible, EnviroVent operates a paperless office system and recycles all its paperwork. As a result, in 2020 alone, the company recycled 5.90 tonnes of paper, saving the equivalent of 110 trees. Where documents do need to be printed out, empty printer cartridges and used toner waste bottles are collected by a local charity for reuse or recycling.

EnviroVent has been encouraging clients and suppliers to email or E-Fax any paperwork instead of sending hard copies.
Water Bottles:
EnviroVent provided all staff with water bottles to avoid disposable cups going to landfill.
IT:
The company made a commitment to only update IT equipment when needed and any old equipment parts are reworked, reused or donated to charity.
Zero Carbon office:
EnviroVent's new Harrogate Headquarters aims to be zero carbon and the company has saved hundreds of tonnes in carbon emissions at its current premises by making many small and large changes.

LED Lighting
EnviroVent has replaced inefficient traditional filament and halogen lighting and is rolling out a system of low energy LED motion-activated lighting throughout the distribution centre, warehouse and production areas. This ensures that these areas are only lit when needed, which will dramatically reduce energy usage by 87.5%.
Recycling 94% of on-site materials waste
As EnviroVent carries out installation work, this often involves ripping out materials from homes and other buildings. Rather than dumping these in waste, EnviroVent's engineers remove the waste from site and take it back to the factory where it is handled by specialist waste companies to ensure it is dealt with responsibly. As a result, EnviroVent manages to recycle 94% of the waste.
Energy reduction
EnviroVent wanted to reduce the amount of heat loss from its warehouse when doors were opened. The answer was to invest in fast action shutter doors to reduce the time it takes for the doors to open and close. This has dramatically reduced heat loss, helping to save on heating costs and also lessening the environmental impact.
Packaging Recycling and Reuse
EnviroVent takes packaging recycling very seriously. As a result, the company has an arrangement with a number of suppliers to return packaging for reuse. The company has also invested in reusable packaging for certain component parts, such as the cells for the single room heat recovery unit and loft unit feet. They reuse and rework pallets and where possible break down broken pallets to build new ones, with any remaining wood sent to recycling.
Environmental Impact Assessment
EnviroVent commissioned a thorough environmental impact assessment, carried out by an independent company, in 2011. The report stated that its environmental impact from production was minimal as most of the work did not involve machinery. Since its processes have changed little from then to now, we can state with confidence that this still applies.
ISO14001 Certification
EnviroVent is compliant with ISO 14001 environmental management certification which impacts all of its processes.

With regards packaging, EnviroVent complies with all WEEE and Packaging legislation and its contributions are reinvested in the UK.
Supply Chain Sustainability School:
EnviroVent achieved a Silver Award from the Supply Chain Sustainability School. This represents a common approach to addressing sustainability within supply chains.
30% reduction in fuel
By fitting tracking devices to all its commercial fleet, EnviroVent has managed to reduce overall fuel consumption by 30%. Its trackers monitor driver behaviour, fuel consumption and CO2 emissions. The result is a 38% reduction in CO2 emissions, 47,000 litres less fuel used and a saving of over £45,000 over 5 years. In addition, the company is committed to buying cleaner efficient Euro 6 compliant vehicles and at end of life selling them to local businesses for reuse or spares.
Hybrid Cars
After reviewing its company car policy, EnviroVent introduced a number of mild hybrid cars to reduce its reliance on fossil fuels. These have a battery that self-charges by using the energy from the brakes and continually runs alongside the engine. The battery doesn't need to be plugged in and therefore consumes no electricity.
Local First Policy
EnviroVent believes passionately in supporting the local community and economy, which is why the company is proud to manufacture its products in its factory in North Yorkshire. Wherever possible, the company uses local suppliers which reduces transportation miles and its carbon footprint. The company also creates two local jobs for every 10,000 products specified.
"We are extremely committed to ensuring that our suppliers are environmentally-conscious. All our suppliers undergo a stringent supplier on-boarding process, where a significant part is attributed to their Environmental Policies and Management Systems. We endeavour to choose local suppliers to support our local economy and reduce our carbon footprint. In fact, 88% of our suppliers are UK based with 62% located within a 120 radius of our factory." Jo Fox, Procurement Manager at EnviroVent.
Planting trees scheme
The company has launched a new partnership with MoreTrees, an organisation that will plant trees responsibly on its behalf over a long term period and then manage them for life.

EnviroVent launched its planet-friendly campaign on Earth Day 2021, by giving MoreTrees the go ahead to plant 1,000 trees. Straightaway, these trees have offset 300 tonnes of CO2 from the atmosphere and are contributing oxygen.

Each year, via MoreTrees, EnviroVent will be planting 5,000 trees. This will remove a total of approximately 1,500 tonnes of CO2 from the atmosphere. This could offset all of EnviroVent's carbon emissions, making the company carbon neutral in 10 years.

EnviroVent has also committed to planting one tree for every ATMOS® whole house ventilation system sold and installed by EnviroVent.

In addition, the company plans to:
Hold tree planting activities including employee events with proceeds going to MoreTrees.

Work with clients in the social housing sector with various tree planting initiatives.
"We are really excited to be launching our new partnership with MoreTrees, as a business, we're 100 per cent committed to reducing our carbon footprint. We have been focused on reducing our impact on the environment for many years and this initiative, as part of our Planet Friendly campaign, shows a further commitment to sustainability which means those buying our ventilation systems can be safe in the knowledge they are giving back to the planet."
The Green Warriors Team

EnviroVent's Green Warrior Team is an environmentally-conscious squad of employees that puts into action environment-enhancing ideas from anyone in the business.

Here are a few of their implemented initiatives.
Teamwork that champions the environment

Cardboard Shredding

Damaged cardboard boxes are now shredded and used as filler packaging for products.

Organise charity initiatives, such as dress down days, with all proceeds going towards more tree planting.

They also encourage staff to be more sustainable at home through ideas, tips and advice on recycling.
Developing sustainable products
EnviroVent invested heavily in creating a wide range of eco-friendly ventilation systems and also recycles its products wherever possible.
Lifetime Range®- Planet-Friendly Ventilation For Today's World
An important part of this was developing the Lifetime Range® of extractor fans and Positive Input Ventilation (PIV) products, which are designed to last. They are engineered with sustainable components to reduce maintenance and lifecycle costs. This includes:
EnviroVent Ultra Low Watt Motors for lower energy use and carbon emissions.

Less goes to landfill thanks to built-in sustainability and longevity impact.

5, 7 or 10 Year Warranties demonstrate product reliability and longer lifecycle.
Right from the early stages of a new product development, it is always important to us to ensure that the product will be environmentally friendly, designed with the lowest energy use and lowest lifecycle costs
To find out more about sustainability at EnviroVent, visit envirovent.comenvirovent.com/about-us/sustainability