BEAMA Indices
SUBSCRIBE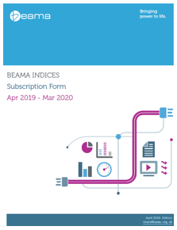 The cost for twelve months subscription for 2019/2020 financial year is £280 plus VAT.
A single subscription covers all the indices.
The report is currently distributed by emails at end of the month. One subscription account can nominate up to 10 individual emails ( within the company) to receive the report.
---
CURRENT ISSUE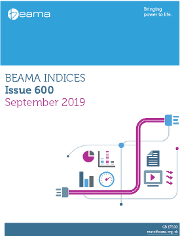 BEAMA indices issue 600 was published on the 30th of August 2019. Labour rates dipped slightly and growth in material prices also continue to slow down.
Protect your contracts against adverse commodity price changes by using BEAMA indices.
---
SAMPLE CALCULATION
| | |
| --- | --- |
| | |
LABOUR
Electrical Engineering , Mechanical Engineering
MATERIALS
Basic Electrical Equipment, Mechanical Equipment, Composite
Factory Built Assemblies, Distribution Transformers, Bispa
Large Power Transformers, Industrial Electronics, Basic Iron & Steel
LIST OF STANDARD FORMULAE
Electrical Machinery
Mechanical Plant
Industrial Electronic Equipment
Rotating Electrical Machinery
Distribution Transformers (Home)
Distribution Transformers (Export) [ <10 MVA ]
Distribution Transformers (Export):[ ≥ 10 MVA ]
Turbo Generating and Allied Plant
Distribution Feeder Pillars and Associated Distribution Equipment
Switchgear and loose isolators (≤36 KV)
Switchgear and loose isolators (>36 KV)
Factory Built Assemblies of Control Equipment: Excluding Erection
Factory Built Assemblies of Low Voltage Switchgear
Large Power Transformers
Annual Service/Maintenance Contracts
BEAMA started the service for its members in 1939, at the outbreak of the second world war when inflation surged overnight, and contractors had no provision to recover cost increases.

BEAMA board recommended several "war" clauses and one of them was Contract Price Adjustment (CPA).
Initially only indices were produced but formulae were introduced in 1941 to satisfy both purchasers and manufactures with different project types.
CPA was still popular after the war but there too many of them. To harmonise them, United Nations of European Committees of Economics (ECE) produced "General conditions of Sale for the Supply of Plant and Machinery (188)" in March 1953, of which BEAMA played a critical role.
Document (188A) was produced four years later in March 1957 by ECE to address other clauses that were not catered for in 188. Supplementary to 188A was a price revision clause which stipulates the general framework of how indices should be used in contract price adjustment