Energy Labelling

Since 26th September 2015 new boilers, heat pumps, and water heaters need to display a label to show their energy performance. Visit the BEAMA Package Label tool for a simple package calculator that can be used to print or e-mail heat system energy labels for your customers.
Look for the label!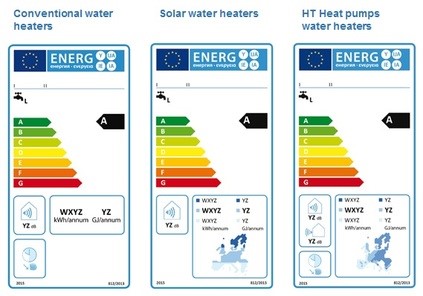 A mandatory energy label has been launched that grades product performance from A+++ to G (with A+++ being the highest performing product).
In addition to this 'product label', a package label is also needed for packages i.e. when heating products are installed together (e.g. a boiler or heat pump with a solar cylinder or controls).
Heating installers, merchants, manufacturers, and imports of space heaters are affected.
Heating installers are often the ones who sell heating products to the end customer. This means that they take on labelling responsibilities as the 'dealer' which include displaying the labels to their customers. Installers are now legally required to produce a 'package label' when selling certain combinations of heating equipment to customers. This can be as simple as fitting a room thermostat with a boiler, and as this is required under the UK building regulations it could mean that you need to produce a package label every time you fit a boiler.
Merchants or other retailers of heating products also take on labelling responsibilities as the 'dealer' but only when they are selling to end customers. This means that they are required to display the labels with space heaters and to produce a 'package label' if they sell space heaters to an end customer along with other items of heating equipment such as a separate temperature control.
Manufacturers of heating controls need to indicate the 'product class' of any temperature controls they place on the market so that they can be incorporated into a 'package label'.
Importers of space heaters take on the responsibilities of 'suppliers' which means that they need to produce the product label. This requirement is not limited to manufacturers but to anyone who places the product on the market.
Further Information: