Consumer Campaigns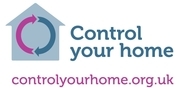 Heating and hot water accounts for nearly 80% of energy demand in a domestic building so it is essential to use a full set of controls. Householders can save 40% off their fuel bills by investing in heating controls and the Control Your Home website explains how.
---

Poor indoor air quality can lead to respiratory problems caused by mould, condensation and a build up Volatile Organic Compounds (VOCs). The My Health My Home website explains the dangers of ignoring the need for ventilation in a balanced healthy home environment and provides solutions for good health.
---

The increase in distributed generation , in addition to the uptake of low carbon technologies including electric vehicles and heat pump, bring with them challenges in how we manage the energy system and customer demand in the future. As a result the energy sector is going through a huge transformation, with the development of smart grid technologies and services for the transmission and distribution system, as well as significant innovation in customer appliances and energy services. The industry have come together, supported by DECC and Ofgem to develop an online portal for information about smart grids, related technologies, funding opportunities, regulation and policy.
---